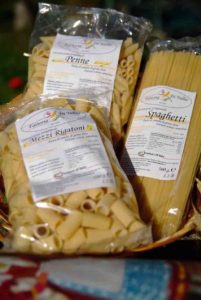 Abruzzo is the land of pasta makers.
The production of artisanal dry pasta from Abruzzo is one of those many things that characterise our beautiful region of unspoiled nature. Our durum wheat semolina combined with pure Maiella water create a unique and unrepeatable mix. For the processing of our semolina we gave it to the best pasta makers from Abruzzo. The result is a product of superb quality and unique taste. The skillful processing of the dough gives, as a result, a dry pasta with an unmistakable taste and excellent cooking resistance.
The bronze drawing gives all our molds and then to the pasta the classic roughness that allows you to retain the perfect taste when paired with a variety of sauces.
The process is completed by drying the pasta at low temperature. During the drying process our pasta remains essentially "alive" as the starch structure remains unchanged and avoids becoming a colloidal (one of the greater defects of the industrial production which uses high-temperature drying).
Fattoria Di Tullio dry pasta is suitable for a wide range of uses in the kitchen, whether they are elaborate recipes or simple and light sauces, which we believe are always the best for enhancing your pasta.
The formats currently in production and available for sale are
Short Pasta: Penne and Mezze Maniche,
Long Pasta: Spaghetti, Fettuccine and Chitarra.
Special line: Calamarata, Fusilloni and Orecchiette